CX / VoC Maturity – What Does It Mean and Where Do I Start?
Over the past 5+ years, both Gartner and Forrester have predicted by 2020, providing great CX "Customer Experience" will be the key differentiator of great companies who will continue to flourish and stay ahead of the competition. Throw in a global pandemic, and here we are! In Forrester's US 2020 Customer Experience Index, Sharyn Leaver, SVP of Research at Forester noted that "To emerge from this global crisis brands must build experiences that help them engage with their customers at an emotional level". Ask yourself where your company is right now when it comes to CX / VoC Maturity, and do you stand up to the predictions?
Regardless of your size or maturity, evaluating your company's current CX / VoC program is a crucial element to improvement. Think of it like meeting with a trainer when you first join a gym to evaluate your current fitness level. You need to put together your plan for healthy improvement so you can understand goals, progress, and pitfalls.
As you put together your CX Maturity roadmap, it's important to understand the domains within CX / VoC and how they can help you, just like diet and exercise contribute to your overall fitness plan. So many companies have one or two areas where they excel but other areas where they fall behind.
Below are the six main performance domains that were identified by CXPA.org through extensive industry research and became the core of their CCXP Certification program (Customer Experience Professionals Association). You can learn more about it by visiting their website at cxpa.org.
| Performance Domain | Description |
| --- | --- |
| Customer Centric Culture | Creating and nurturing a culture, through behaviors, practices and standards that encourage all employees to focus on delivering outstanding customer experiences. |
| Organizational Adoption and Accountability | Driving change and developing cross-company experience accountability from the C-suite to the front line. |
| VoC, Customer Insights & Understanding | Building collective insight into customer needs, wants, perceptions, and preferences through the capture and analysis of the voice of the customer. |
| Experience Design & Improvement | Implementing practices and approaches to continuously improve, design and differentiate customer experiences. |
| Customer Experience Strategy | Development of a strategy that articulates a clear vision of the experience that a company seeks to create in support of the company's brand values, including its direct linkage to CX activities, resources and investments. |
| Metrics, Measurement, & ROI | Creation and reporting of the measures of CX success including their use in business cases to illustrate the ROI and business value of customer experience. |
Evaluating where your company is in respect to CX/VoC Maturity allows you to put together a measurable and realistic plan for improvement. Once you understand your current maturity level, identifying key elements to your roadmap will become clear. Below is an example of what you might consider evaluating and including in your CX Roadmap:
| Evaluation Area | Example |
| --- | --- |
| Identify and maintain what you do well | Customers love the product and the quick turnaround on deliveries. |
| Determine most impactful areas of opportunity | Though there is quick turnaround, customers often receive the wrong product. And, when the products break, it is difficult for customers to know where to go to get it fixed or how they could fix the product themselves. |
| Organize a strategy for success | Meet with online team to outline a "broken product" section and leverage feedback to understand the most commonly faced issues that customers can't resolve. |
| Establish CX metrics to measure improvement | Track the volume and % of your feedback about products breaking. |
| Gain executive accountability | Work across your organization to find leaders to drive these projects to success. |
Farlinium is happy to help you determine your CX / VoC Maturity level and work with you along your CX roadmap regardless of where your company is along its path. We have developed a simple assessment framework that we have coupled with a free 30-minute advisory consultation to give you a customized readout of your CX / VoC Maturity roadmap.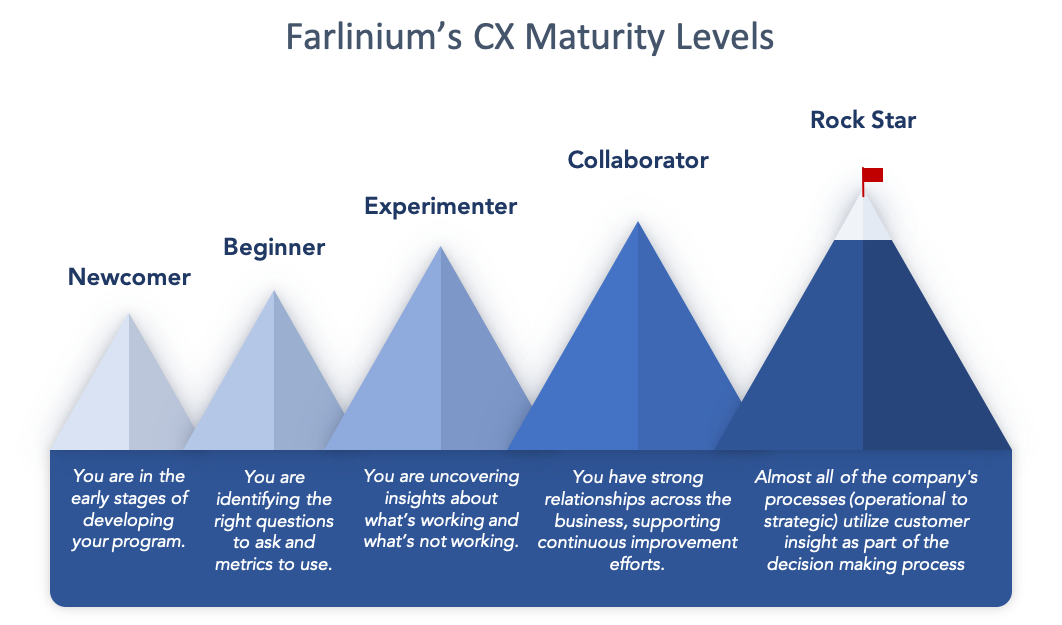 If you would like to find out more about where you sit on the scale, please click the link below to complete a quick self-assessment and review your free results with one of our expert CX consultants.